HP bearing piles are special warm rolled H beams with the same thickness for flange and web. The sections can be delivered in all standard steel grades after agreement.Sections are also available according to ASTM A6-02.It is easy for installation, considering driving as well as handling, transport and storing.The profiles marked HP bearing pile are available in steel grades HISTAR 355 and HISTAR 460.MV piles can also be used as rigid anchorage with high tension loads (> 500 tons per pile).
In comparison to conventional H sections, HP pile features a greater stability of form during driving, a uniform cross section against corrosion and a better weight/perimeter ratio. Minimum order: 40 tons per section and grade or upon agreement.HP foundation piles have very high resistance to compression loads.It has high bending moment capacity for horizontal forces.EN 10113-3:1993 and HISTAR 355 and 460. Other steel grades can be delivered on request.
There is no limits for the length of the HP piles, due to an easy adaptation to the soil conditions by splicing.Surface condition according to EN 10163-3:1991, class C, subclass 1.standard lengths from 8 to 28 m; Other lengths upon request.Minimum tonnage and delivery conditions upon agreement.HP bearing pile tolerances according to EN 10034:1993.
Dimensions:
ASTM A 6/A 6M - 07
Tolerances:
ASTM A 6/A 6M - 07
Surface condition:
According to ASTM A 6/A 6M - 07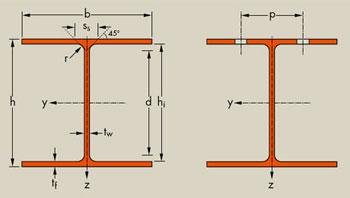 Section
Mass
(G)
Dimensions
Steel Area
Perimeter
Moment Of inertia
Section modulus
kg/m
h
mm
b
mm
Tw
mm
tf
mm
cm2
cm2
y-y
cm4
z-z
cm4
y-y
cm3
y-y
cm3
z-z
cm3
HP220x57.2
57.2
210
224.5
11
11
72.9
1.265
5729
2079
545.6
185.2
HP260x87.3
87.3
253
267
14
14
111.2
1.505
12590
4455
994.9
333.7
HP260x75
75
249
265
12
12
95.54
1.493
10650
3733
855.1
281.7
HP305x110
110
307.9
310.7
15.3
15.4
140.2
1.8
23560
7709
1531
495
HP305x126
126
312.3
312.9
17.5
17.6
161
1.813
27410
9002
1755
577.2
HP305x149
149
318.5
316
20.6
20.7
190
1.832
33070
10910
2076
688.8
HP305x180
180
326.7
319.7
24.8
24.8
229.3
1.857
40970
13550
2508
847.4
HP305x186
186
328.3
320.9
25.5
25.6
237
1.861
42610
14140
2596
879.3
HP305x223
223
337.9
325.7
30.3
30.4
285
1.891
52700
17580
3119
1081
HP305x88
88
301.7
307.8
12.3
12.4
111.6
1.782
18420
5984
1221
387.3
HP305x95
95
303.7
308.7
13.3
13.3
121.7
1.788
20040
6529
1320
425.1
HP320x103
103
307
306
14
14
131
1.764
22050
6704
1437
438.2
HP320x117
117
311
308
16
16
149.5
1.776
25480
7815
1638
507.5
HP320x147
147
319
312
20
20
186.9
1.8
32670
10160
2048
651.3
HP320x184
184
329
317
25
25
234.5
1.83
42340
13330
2574
841.2
HP320x88.5
88.5
303
304
12
12
112.7
1.752
18740
5634
1237
370.6
HP360x109
109
346.4
371
12.8
12.9
138.9
2.123
30630
10990
1769
590.7
HP360x133
133
352
373.8
15.6
15.7
168.5
2.14
37980
13680
2158
725.3
HP360x152
152
356.4
376.0
17.8
17.9
193.8
2.153
43970
15880
2468
842.3
HP360x174
174
361.4
378.5
20.3
20.4
221.7
2.169
51010
18460
2823
973.5
HP360x180
180
362.9
378.8
21.1
21.1
229.5
2.173
53040
19140
2923
1011
HP360x84.3
84.3
340
367
10
10
107.3
2.102
23190
8243
1364
449.2
HP400x122
122
348
390
14
14
155.9
2.202
34770
13850
1998
710.3
HP400x140
140
352
392
16
16
178.6
2.214
40270
16080
2288
820.2
HP400x158
158
356
394
18
18
201.4
2.226
45940
18370
2581
932.4
HP400x176
176
360
396
20
20
224.3
2.238
51770
20720
2876
1047
HP400x194
194
364
398
22
22
247.5
2.25
57760
23150
3174
1163
HP400x213
213
368
400
24
24
270.7
2.262
63920
25640
3474
1282
HP400x231
231
372
402
26
26
294.2
2.274
70260
28200
3777
14