Wide flange beams are commonly made of structural steel but may also be formed from aluminium or other materials. UK. Parallel flanges are easier to connect to and do away with the need for tapering washers. Tables are available to allow easy selection of a suitable steel I-beam size for a given applied load.
HL beams may be used both on their own, or acting compositely with another material, typically concrete. Design may be governed by any of the following criteria.These sections have parallel flanges, as opposed to the varying thickness of RSJ flanges which are seldom now rolled in the UCs have equal or near-equal width and depth and are more suited to being oriented vertically to carry axial load such as columns in multi-storey construction, while UBs are significantly deeper than they are wide are more suited to carrying bending load such as beam elements in floors.
A common type of European extra wide flange sections is the rolled steel joist (RSJ)—sometimes incorrectly rendered as reinforced steel joist. British and European standards also specify Universal Beams (UBs) and Universal Columns (UCs).
Wide flange beam are widely used in the construction industry and are available in a variety of standard sizes. . HL beam may be used both as beams and as columns.
Dimensions:
ASTM A 6/A 6M - 07
Tolerances:
ASTM A 6/A 6M - 07
Surface condition:
According to EN 10163-3: 2004, class C, subclass 1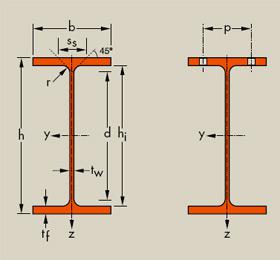 Size
Dimensions
Characteristics
G
kg/m
h
mm
b
mm
tw
mm
tf
mm
r
mm
hi
mm
d
mm
Ø
pmin
mm
pmax
mm
HL 920 X 342*
342
912
418
19,3
32,0
24
848,0
800,0
M 27
126
312
HL 920 X 365*
365
916
419
20,3
34,3
24
847,4
799,4
M 27
128
314
HL 920 X 387*
387
921
420
21,3
36,6
24
847,8
799,8
M 27
128
314
HL 920 X 417*
417
928
422
22,5
39,9
24
848,2
800,2
M 27
130
316
HL 920 X 446*
446
933
423
24,0
42,7
24
847,6
799,6
M 27
130
318
HL 920 X 488*
488
942
422
25,9
47,0
24
848,0
800,0
M 27
132
316
HL 920 X 534*
534
950
425
28,4
51,1
24
847,8
799,8
M 27
136
320
HL 920 X 585*
585
960
427
31,0
55,9
24
848,2
800,2
M 27
138
322
HL 920 X 653*
653
972
431
34,5
62,0
24
848,0
800,0
M 27
144
320
HL 920 X 784*
784
996
437
40,9
73,9
24
848,2
800,2
M 27
152
326
HL 920 X 967*
967
1028
446
50,0
89,9
24
848,2
800,2
M 27
160
334
HL 920 X 344
344
927
418
19,3
32,0
19
863,0
825,0
M 27
126
312
HL 920 X 368
368
931
419
20,3
34,3
19
862,4
824,4
M 27
128
314
HL 920 X 390
390
936
420
21,3
36,6
19
862,8
824,8
M 27
128
314
HL 920 X 420
420
943
422
22,5
39,9
19
863,2
825,2
M 27
130
316
HL 920 X 449
449
948
423
24,0
42,7
19
862,6
824,6
M 27
130
318
HL 920 X 491
491
957
422
25,9
47,0
19
863,0
825,0
M 27
132
316
HL 920 X 537
537
965
425
28,4
51,1
19
862,8
824,8
M 27
136
320
HL 920 X 588
588
975
427
31,0
55,9
19
863,2
825,2
M 27
138
322
HL 920 X 656
656
987
431
34,5
62,0
19
863,0
825,0
M 27
144
320
HL 920 X 725
725
999
434
38,1
68,1
19
862,8
824,8
M 27
148
323
HL 920 X 787
787
1011
437
40,9
73,9
19
863,2
825,2
M 27
152
326
HL 920 X 970
970
1043
446
50,0
89,9
19
863,2
825,2
M 27
160
334
HL 1000 AA
296
982
400
16,5
27,1
30
928,0
868,0
M 27
134
294
HL 1000 A
321
990
400
16,5
31,0
30
928,0
868,0
M 27
134
294
HL 1000 B
371
1000
400
19,0
36,1
30
928,0
868,0
M 27
136
294
HL 1000 M
412
1008
402
21,1
40,0
30
928,0
868,0
M 27
140
296
HL 1000 X 443
443
1012
402
23,6
41,9
30
928,2
868,2
M 27
142
296
HL 1000 X 483
483
1020
404
25,4
46,0
30
928,0
868,0
M 27
144
298
HL 1000 X 539
539
1030
407
28,4
51,1
30
927,8
867,8
M 27
146
302
HL 1000 X 554
554
1032
408
29,5
52,0
30
928,0
868,0
M 27
150
296
HL 1000 X 591
591
1040
409
31,0
55,9
30
928,2
868,2
M 27
148
304
HL 1000 X 642
642
1048
412
34,0
60,0
30
928,0
868,0
M 27
154
300
HL 1000 X 748
748
1068
417
39,0
70,0
30
928,0
868,0
M 27
160
304
HL 1000 X 883
883
1092
424
45,5
82,0
30
928,0
868,0
M 27
166
312
HL 1100 A
343
1090
400
18,0
31,0
20
1028
988,0
M 27
116
294
HL 1100 B
390
1100
400
20,0
36,0
20
1028
988,0
M 27
118
294
HL 1100 M
433
1108
402
22,0
40,0
20
1028
988,0
M 27
120
296
HL 1100 R
499
1118
405
26,0
45,0
20
1028
988,0
M 27
124
300