The HP bearing piles are special bearing piles with the same thickness for flange and web. Weights of rolled sections are computed on the basis that one cubic foot of steel weighs 490 lbs. Weights have been calculated on theoretical dimensions and rounded to the nearest pound.The radii of fillets and rounded edges are likely to change during the rolling process due to roll wear. The listed dimensions of bearing pile generally allow for these wear variations.No limits for the length of the pile, due to an easy adaptation to the soil conditions by splicing.The sections can be delivered in all standard steel grades after agreement.
HP bearing pile is dimensionally square structural beams that are driven in the ground for deep foundation applications. Rolling and cutting tolerances shown in this catalog are in conformance with ASTM A6/A6M.Minimum tonnage of 50 tons, for the sections HP220*57.2;260*75-87.3;400*122-231 derivative section and quality.Excellent durability; numerous experiences for totally embedded piles showed a corrosion rate tending to zero.Steel bearing piles are manufactured and designed to transfer structural loads to these good bearing soils.
Rolling shapes involves factors such as roll wear, subsequent roll dressing, and temperature variations, which cause actual dimensions to vary slightly from the published dimensions, within the permissible ASTM tolerances. Fillets have been included in computations of weights and properties.Control of the steel bearing pile capacity by measurement of the refusal at driving.
Structural shapes distributed by Arcelor sheet Piling are rolled to conform to the latest ASTM Structural Steel Specification. Bearing piles of this type are used all over the world for the deep foundations of various structures: housings, industrial constructions, bridges.H-Piles are also used in conjunction with sheet piles to add lateral stiffness and bending resistance where loads exceed the capacity of sheet piles alone.
Dimensions:
In accordance with mill standard
Tolerances:
EN 10034: 1993
Surface condition:
According to EN 10163-3: 2004, class C, subclass 1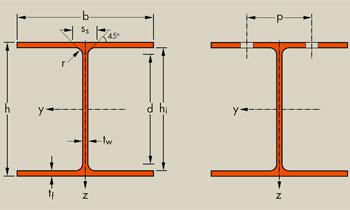 Section
Mass (G)
Dimensions
Steel Area (A)
Perimeter
Moment of inertia
Section modulus
h
b
tw
tf
y-y
z-z
y-y
z-z
kg/m
mm
mm
mm
mm
cm2
m
cm4
cm4
cm3
cm3
HP 220 * 57.2
57,2
210
224,5
11
11
72,9
1,265
5729
2079
545,6
185,2
HP 260 * 87.3
87,3
253
267
14
14
111,2
1,505
12590
4455
994,9
333,7
HP 260 *7 5
75
249
265
12
12
95,54
1,493
10650
3733
855,1
281,7
HP 305 * 110
110
307,9
310,7
15,3
15,4
140,2
1,8
23560
7709
1531
495
HP 305 * 126
126
312,3
312,9
17,5
17,6
161
1,813
27410
9002
1755
577,2
HP 305 * 149
149
318,5
316
20,6
20,7
190
1,832
33070
10910
2076
688,8
HP 305 * 180
180
326,7
319,7
24,8
24,8
229,3
1,857
40970
13550
2508
847,4
HP 305 * 186
186
328,3
320,9
25,5
25,6
237
1,861
42610
14140
2596
879,3
HP 305 * 223
223
337,9
325,7
30,3
30,4
285
1,891
52700
17580
3119
1081
HP 305 * 88
88
301,7
307,8
12,3
12,4
111,6
1,782
18420
5984
1221
387,3
HP 305 * 95
95
303,7
308,7
13,3
13,3
121,7
1,788
20040
6529
1320
425,1
HP 320 * 103
103
307
306
14
14
131
1,764
22050
6704
1437
438,2
HP 320 * 117
117
311
308
16
16
149,5
1,776
25480
7815
1638
507,5
HP 320 * 147
147
319
312
20
20
186,9
1,8
32670
10160
2048
651,3
HP 320 * 184
184
329
317
25
25
234,5
1,83
42340
13330
2574
841,2
HP 320 * 88.5
88,5
303
304
12
12
112,7
1,752
18740
5634
1237
370,6
HP 360 * 109
109
346,4
371
12,8
12,9
138,9
2,123
30630
10990
1769
590,7
HP 360 * 133
133
352
373,8
15,6
15,7
168,5
2,14
37980
13680
2158
725,3
HP 360 * 152
152
356,4
376,0
17,8
17,9
193,8
2,153
43970
15880
2468
842,3
HP 360 * 174
174
361,4
378,5
20,3
20,4
221,7
2,169
51010
18460
2823
973,5
HP 360 * 180
180
362,9
378,8
21,1
21,1
229,5
2,173
53040
19140
2923
1011
HP 360 * 84.3
84,3
340
367
10
10
107,3
2,102
23190
8243
1364
449,2
HP 400 * 122
122
348
390
14
14
155,9
2,202
34770
13850
1998
710,3
HP 400 * 140
140
352
392
16
16
178,6
2,214
40270
16080
2288
820,2
HP 400 * 158
158
356
394
18
18
201,4
2,226
45940
18370
2581
932,4
HP 400 * 176
176
360
396
20
20
224,3
2,238
51770
20720
2876
1047
HP 400 * 194
194
364
398
22
22
247,5
2,25
57760
23150
3174
1163
HP 400 * 213
213
368
400
24
24
270,7
2,262
63920
25640
3474
1282
HP 400 * 231
231
372
402
26
26
294,2
2,274
70260
28200
3777
1403