Product Photos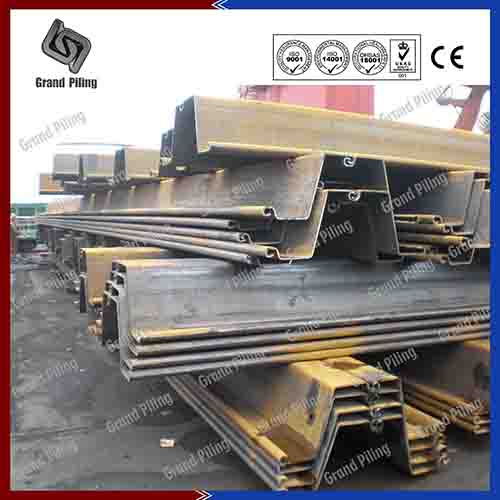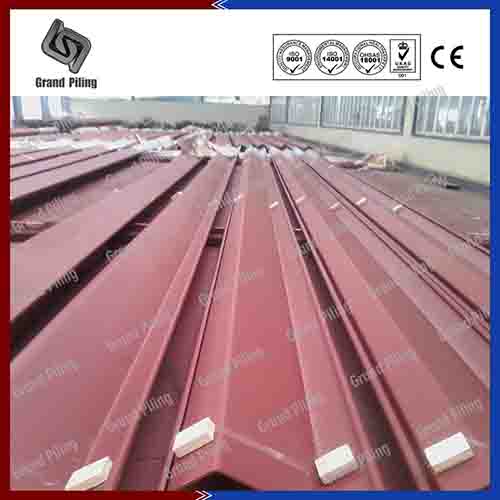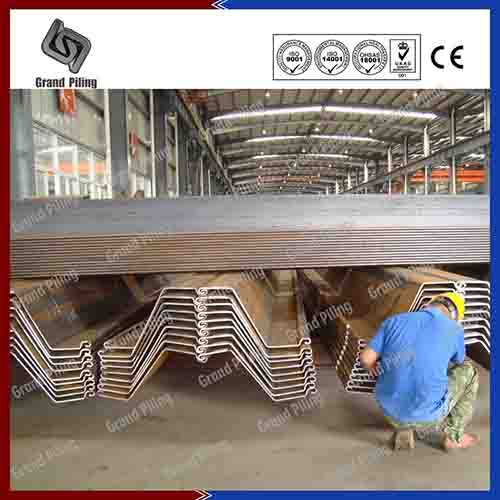 Cold Rolled Z Type Steel Sheet Pile
Z profile steel sheet piles are call Z because one single sheet pile stands like the letter. Cold formed sheet piling is also produced through a series of rollers, by which the Z shape is formed gradually with uniform thickness along the full length of the profiles. The thinnest Z type sheet piling might be only 3mm thickness. 15 years ago, cold rolled sheet piling manufacturer was only in Europe, today most sheet piling is produced in China, especially heavy gauge sections. Clutches are located on both sides far from the neutral axis, which provide maximum use of the materials and also good for a bigger modulus of section. Like all other cold rolled metal sheet piles, Z sections can also be produce in any possible width, height, thickness. OZ sheet pile, PAZ sheet pile, all other sheet piling specifications and dimensions are all no problem. Different from hot rolling technology, in which the profiles can form the shape in mills, cold forming needs another process of rolling and forming, the maximum thickness for cold rolled Z type sheet pile is 16mm.
Sheet piling design and calculation can be done from the very beginning, our factory can tailor make the dimensions and specifications for projects, you can know the total costs from the very beginning . Any steel grade all can be used, S235 S355 S390 S430 S460 etc is only a matter of request. In Asia, U type steel sheet pile is still the tradition, but more and more jobs, especially wharf constructions, deep foundations, seawall, bulkheads requires Z sizes. Now in Europe, especially western Europe, sheet pile contractors prefer Z profiles. HZ combined wall,OZ sheet piles and tubular combined walls all use Z types.
Our Advantages
Ø Excellent properties with high tensile strength. Interlocks are located away from the neutral axis, which is good protection for the cold rolled interlocks, giving optimized profiles for higher strength and lower material weight.
Ø Capable of saving steels economically. Compared with U type steel sheet pile, Z type sheet piles always has smaller weight when modulus of sections are similar
Ø High installation performance with large width, We can produce length up to over 50m,and thickness up to 16mm,varied width, and height. over 200 different sizes of steel sheet piling
Ø Z profile sheet piling are normally installed and driven in welded or crimpled double, which will give a greater system width, compared to U profile sheet piles This also means reduced handling and installation time. Less number of interlocks per linear meter is good for water tightness.
Sheet Pile Properties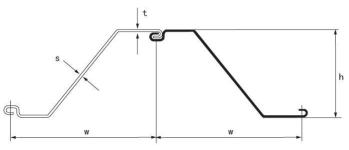 Section
Dimensions
Mass
Moment of inertia
Modulus of Section
Width
Height
Thickness
Per pile
Wall
w
h
t
s
mm
mm
mm
mm
kg/m
kg/m2
cm4/m
cm3/m
GPZ 4-770
770
213
5
5
38.2
49.6
4770
448
GPZ 5-850
850
253
5
5
41.1
48.4
6420
507
GPZ 5-770
770
214
6
6
45.8
59.4
5720
534
GPZ 6-850
850
254
6
6
49.2
57.9
7671
604
GPZ 6-900
900
254
6
6
51.5
57.3
7757
611
GPZ 6-725
725
269
5
5
37.7
52
8240
612
GPZ 6-770
770
215
7
7
53.3
69.2
6660
619
GPZ 7-725
725
270
6
6
45.1
62.2
9890
730
GPZ 8-857
857
300
6
6
54.3
63.3
11502
766
GPZ 8-676
676
312
5
5
37.7
55.8
12065
772
GPZ 8-850
850
255
7
7
60.9
71.6
10375
835
GPZ 8-550
550
200
8
8
52.3
95
8350
835
GPZ 8-725
725
271
7
7
52.4
72.3
11535
846
GPZ 9-857
857
301
7
7
63.2
73.7
13376
888
GPZ 9-850
850
318
6
6
54.4
64
14381
904
GPZ 9-676
676
313
6
6
45.1
66.7
14444
922
GPZ 9-550
550
200
9
9
58.9
107
9400
940
GPZ 9-621
621
347
5
5
37.7
60.7
16318
940
GPZ 10-807
807
351
6
6
53.9
66.8
16989
968
GPZ 10-857
857
302
8
8
72.1
84
15249
1009
GPZ 10-850
850
319
7
7
65.1
76.6
16386
1027
GPZ 11-676
676
314
7
7
52.4
77.5
16815
1069
GPZ 11-850
850
320
8
8
73.2
86.2
17639
1102
GPZ 11-621
621
348
6
6
45.1
72.6
19544
1122
GPZ 11-807
807
352
7
7
62.6
77.6
19774
1123
GPZ 11-857
857
303
9
9
81
94.4
17123
1131
GPZ 12-850
850
379
7
7
66.7
78.5
22973
1212
GPZ 12-743
743
407
6
6
53.9
72.5
25074
1233
GPZ 13-807
807
353
8
8
71.4
88.4
22546
1277
GPZ 13-770
770
344
9
9
76.1
99
22360
1300
GPZ 13-670
670
303
9.5
9.5
72
107
19700
1300
GPZ 13-621
621
349
7
7
52.4
84.4
22756
1302
GPZ 13-700
700
315
9.5
9.5
74
105.7
20540
1305
GPZ 13-850
850
380
8
8
75.1
88.3
24831
1307
GPZ 13 10/10
670
304
10
10
75.2
112
20480
1350
GPZ 14-770
770
345
9.5
9.5
79.5
103
23300
1355
GPZ 13-700 10/10
700
316
10
10
77.2
110.2
21370
1355
GPZ 14-675
675
399
6.5
6.5
55.5
82.2
27251
1370
GPZ 14-670
670
304
10.5
10.5
78.3
117
21300
1400
GPZ 14-700 10/10
770
345
10
10
82.9
108
24240
1405
GPZ 14-700
700
316
10.5
10.5
80.3
114.7
22190
1405
GPZ 14-807
807
354
9
9
80.2
99.3
25318
1431
GPZ 14-743
743
408
7
7
62.6
84.3
29179
1432
GPZ 15-675
675
399
7
7
59.7
88.5
29281
1470
GPZ 15-671
671
451
6
6
53.9
80.3
34340
1525
GPZ 16-675
675
400
7.5
7.5
64
94.8
31325
1570
GPZ 16-808
808
355
10
10
89.2
110.3
27850
1570
GPZ 16-744
744
409
8
8
71.4
96
33263
1628
GPZ 16-900
900
400
8
8
82.6
91.7
32711
1635
GPZ 17-630
630
379
8.5
8.5
68.4
109
31580
1665
GPZ 17-675
675
400
8
8
68.2
101.1
33350
1670
GPZ 17-700
700
419
8.5
8.5
73.1
104
36230
1730
GPZ 18-671
671
452
7
7
62.6
93.3
39954
1770
GPZ 18-685
685
401
8.5
8.5
72.3
105.6
35558
1780
GPZ 18-630a
630
380
9.5
9.5
74.4
118
34200
1800
GPZ 18-700
700
420
9
9
76.5
109
37800
1800
GPZ 18-630b
630
380
8
8
62.9
99.8
34293
1805
GPZ 18-744
744
410
9
9
80.2
107.8
37387
1825
GPZ 18-900
900
401
9
9
92.6
102.9
36677
1829
GPZ 18-800
800
449
8.5
8.5
80.7
100.9
41320
1840
GPZ 18 10/10
630
381
10
10
77.8
123
35540
1870
GPZ 19-700a
700
420
9.5
9.5
80
114
39380
1870
GPZ 19-685
685
401
9
9
76.6
111.8
37580
1880
GPZ 19-750
750
420.5
10.5
10.5
93.5
124.8
40296
1916
GPZ 19-630
630
381
10.5
10.5
81
129
36980
1940
GPZ 19-700b
700
421
10
10
83.5
119
40960
1945
GPZ 20-685
685
402
9.5
9.5
80.8
118
39595
1970
GPZ 20-650
650
437
8
8
70.8
108.8
43293
1980
GPZ 20-800
800
450
9.5
9.5
88.6
110.7
45050
2000
GPZ 20-745
745
410
10
10
89.2
119.8
41060
2000
GPZ 20-672
672
453
8
8
71.4
106.3
45537
2013
GPZ 20-900
900
402
10
10
102.6
114
40616
2021
GPZ 21-685
685
402
10
10
85.1
124.2
41601
2070
GPZ 21-650
650
438
8.5
8.5
75.1
115.5
45912
2100
GPZ 22-800
800
451
10.5
10.5
96.4
120.5
48790
2165
GPZ 22-650
650
438
9
9
79.4
122.1
48521
2220
GPZ 22-630
630
380
10
10
78.7
124.9
42531
2239
GPZ 23-672
672
454
9
9
80.2
119.3
51180
2259
GPZ 23-800
800
474
10
10
94.6
118.2
55260
2330
GPZ 23-650
650
439
9.5
9.5
83.6
128.6
51120
2330
GPZ 24-700
700
459
11.2
11.2
95.7
136
55820
2430
GPZ 25-650
650
439
10
10
87.9
135.2
53709
2450
GPZ 25-630
630
426
11.4
11.4
91.5
145
52250
2455
GPZ 25-673
673
455
10
10
89.2
132.5
56200
2470
GPZ 25-800
800
475
11
11
102.6
128.2
59410
2500
GPZ 26-700
700
460
12.2
12.2
102.9
147
59720
2600
GPZ 26-675
675
440
10.5
10.5
95.9
142.1
57410
2620
GPZ 26-630
630
427
12.2
12.2
97.8
155
55736
2621
GPZ 26-750
750
452
12
12
113.8
151.8
59665
2640
GPZ 27-800
800
476
12
12
110.5
138.1
63570
2670
GPZ 27-630
630
380
12
12
94.4
149.8
50765
2672
GPZ 27-675
675
440
11
11
99.8
147.9
60043
2730
GPZ 28-630
630
428
13.2
13.2
104.4
161
58968
2761
GPZ 28-700
700
461
12
12
110
157
64048
2785
GPZ 28-750a
750
453
13
13
124.6
166.2
63273
2794
GPZ 28-750b
750
509
10.5
10.5
100.8
134.4
71540
2810
GPZ 29-675
675
441
11.5
11.5
104.4
154.6
62667
2850
GPZ 29-700
700
461
13.2
13.2
116.5
166.4
65344
2935
GPZ 30-675
675
441
12
12
108.9
161.3
65281
2960
GPZ 30-750
750
510
11.5
11.5
108.7
145
76670
3005
GPZ 31-675
675
442
12.7
12.7
115.2
170.7
68927
3120
GPZ 32-675
675
487
11
11
108.3
160.5
77367
3180
GPZ 32-750
750
511
12.5
12.5
116.7
155.6
81800
3200
GPZ 33-675
675
488
11.5
11.5
113.1
167.5
80750
3320
GPZ 34-750
750
491
13
13
132.2
176.3
84085
3425
GPZ 34-630
630
459
13.5
13.5
115.5
183
78700
3430
GPZ 35-675
675
488
12
12
117.8
174.6
84121
3450
GPZ 36-675
675
489
12.5
12.5
122.5
181.5
87473
3580
GPZ 36-700N
700
499
12.5
12.5
118.6
169
89610
3590
GPZ 36-630
630
460
14.3
14.3
122.2
194
82800
3600
GPZ 36-750
750
492
14
14
141.3
188.5
89341
3632
GPZ 37-700
700
499
13
13
124.2
177
92400
3705
GPZ 37-675
675
489
13
13
127.3
188.5
90830
3720
GPZ 38-700N
700
500
13.5
13.5
126.4
181
94840
3795
GPZ 38-630
630
461
15
15
129.1
205
87476
3795
GPZ 39-675
675
490
13.5
13.5
132
195.5
94167
3850
GPZ 39-700
700
500
13.7
13.7
131.9
188
97500
3900
GPZ 40-675
675
490
14
14
136.6
202.4
97493
3980
GPZ 40-700N
700
550
13.8
13.8
134.2
192
110037
4010
GPZ 41-700
700
550
14
14
139.5
199
113788
4137
GPZ 42-700N
700
550
14.2
14.2
142.1
203.1
115670
4215
GPZ 44-700N
700
550
14.5
14.,5
149.9
214.2
119005
4413
GPZ 46-700N
700
525
15.2
15.2
157.7
225.3
121251
4626
GPZ 46-580
580
540
14.2
14.2
132.6
229
124718
4628
GPZ 48-700
700
550
15.2
15.2
158.5
226.4
132197
4815
GPZ 48-580
580
570
15
15
139.6
241
137244
4824
GPZ 50-580
580
580
16
16
146.7
252.9
145666
5032
GPZ 50-700
700
530
16
16
166.3
237.5
133475
5046
GPZ 52-700
700
550
16
16
167.7
239.6
143752
5236
Production and Delivery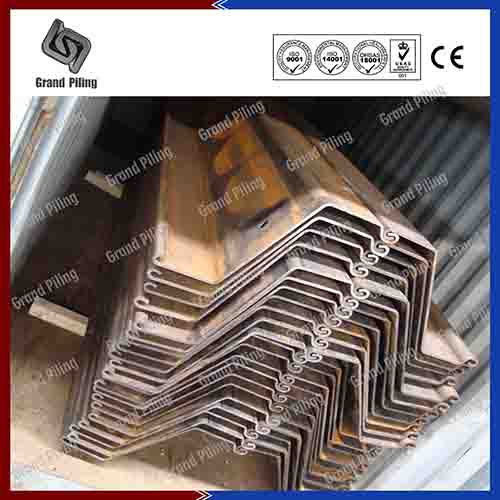 Delivery in welded pairs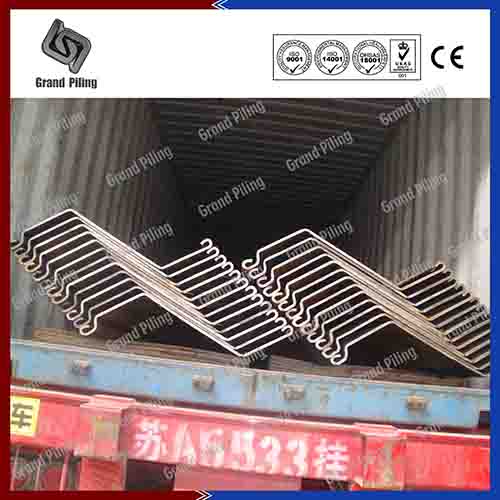 Delivery in Single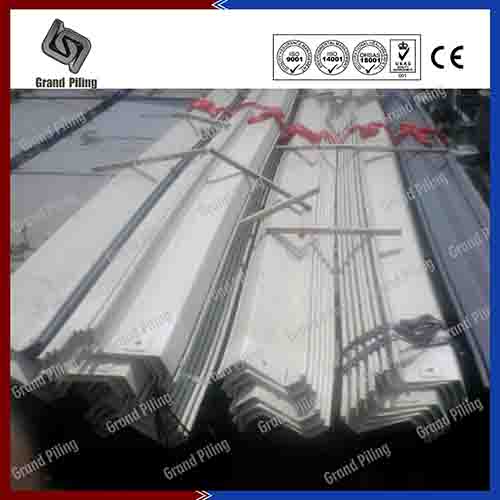 Delivery by bulk vessel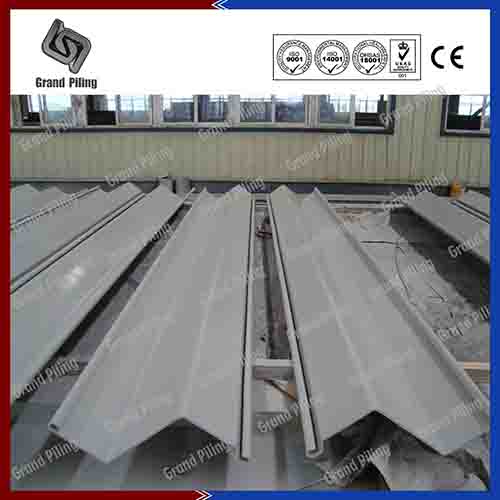 Painting in house
Downloads:
Sheet Pile Brochure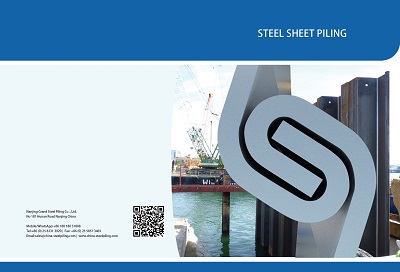 Our Latest Brochure

P1-5:Introduction
P6-7:Z type sheet pile
P8-9:Corner section
P10-11:Z type sheet pile
P12-15:U type sheet pile
P16-17:Omega sheet pile
P18-19:Trench sheet
P20-21:Straight web pile
P20-21:Steel grade
P22-27:Tubular combiwall
P28-31:HZ combiwall
P32-39:Global projects
Download in Different Language
Technical Details
1.  COTECNA Philippine Shipment Report 2.  SGS Inspection Report for Sheet Pile 3.  BV Inspection Report for Sheet Pile 4.  Sheet Pile Quality Control Document 5.  Steel Sheet Piling MTC 6.  Baosteel MTC 7.  Design and Construction Manual for Our Sheet Pile
Global Projects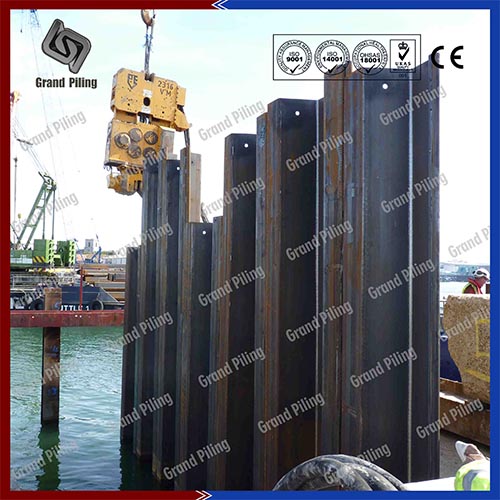 Convention Centre Bridge-Piling, Melbourne, Australia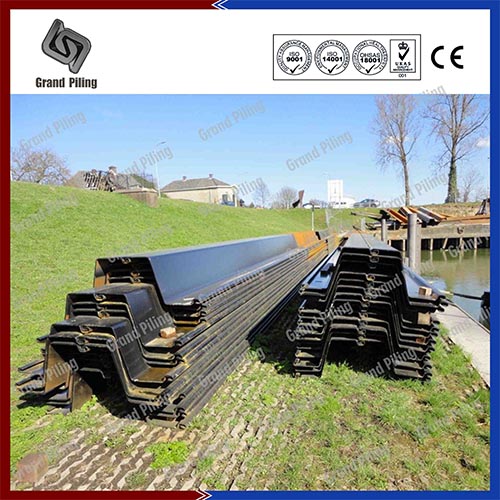 Punta Colonet Project, Mexico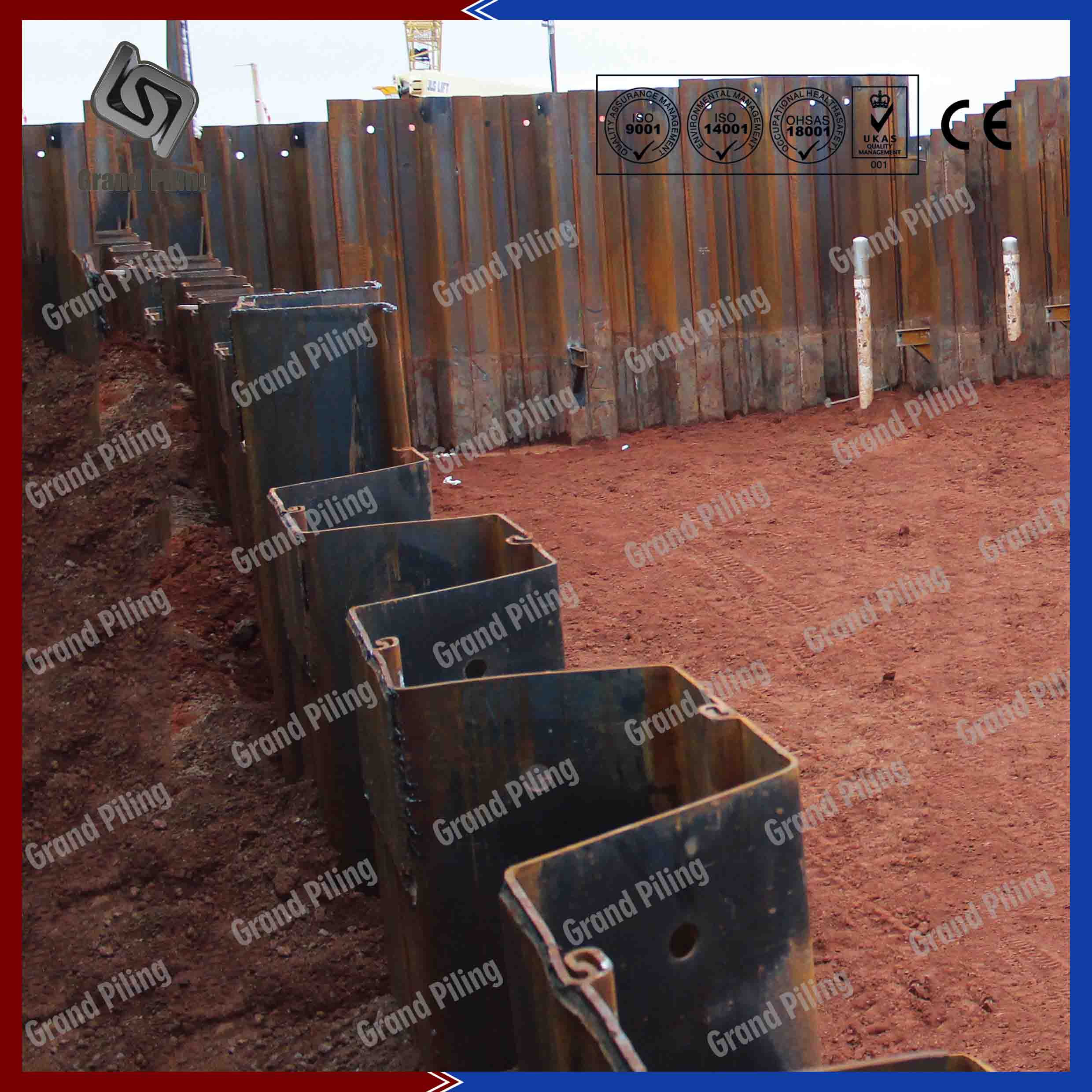 Hell Canada, Canada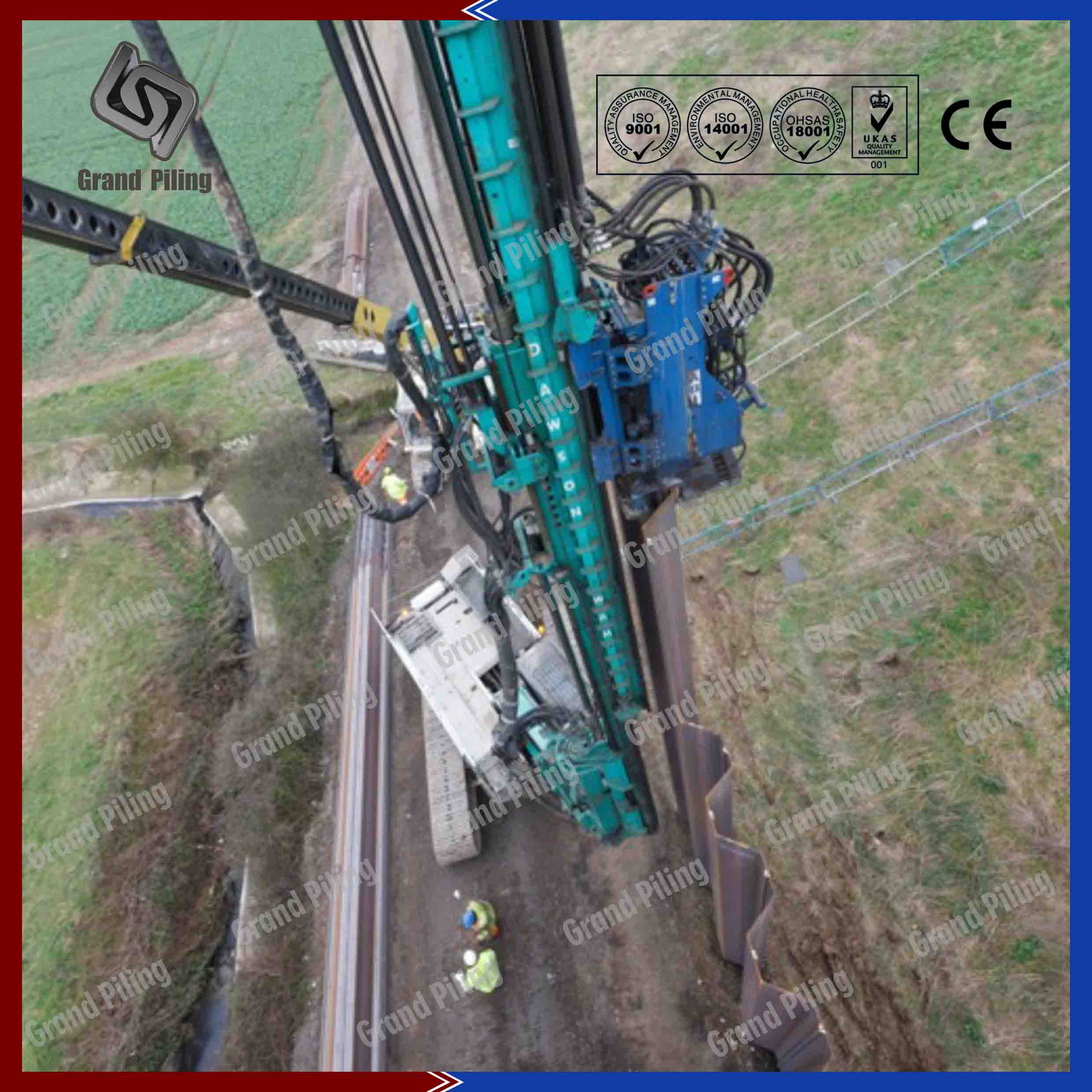 SBM Project, Pakistan
See more of Cold Rolled Sheet Pile Projects