Nanjing Grand Steel Piling Co.,Ltd is the main steel sheet piling manufacturer in the world market,have exported into over 180 different countries. We are also the biggest sheet pile manufacturer in China. We drafted the China National sheet piling standard and we produced the first sheet piling in China.
We are producing all types of sheet piles, pipe piles,combined walls(HZ combined wall and tubular combined wall),tie rods and all sheet piling accessories. We can also do painting,corner piles and other fabrications in our factory.
We produced the longest sheet pile and pipe piles in the world:Over 100m per unit length for South China Sea project.We can tailor made all sheet piles sizes for you.We produced the biggest modulus of section sheet piles(over 6000cm3/m) and the highest steel grades for sheet piles.We have produced sheet piling for 30 years and exported to Europe,America,Southeast Asia,Africa, South America,Australia,middle east, all continents.
Specialised in production design sales of sheet piling, pipe pile and accessories. , Nanjing Grand Steel Piling Co.,Ltd (Short for Grand Piling) is the biggest and most experieced sheet piling solutions suppliers in China. Grand Piling produced and exported the first sheet piles in China.During the past years,Grand Piling cooperated closely with numerous big construcition companies , piling contractors.,piling stockists/traders,design institutions,and gain vast experices in this filed.Grand Piling know clients' every needs and problem,and our engineer team will design the most economical while competent offer for every inquiry. Grand Piling is your first call ,when you are involved in civil foundation works, port and harbors, bridge, Rivers, etc
WHAT WE DO:
Since the implementation of the steel-piling concept, the understanding and knowledge of designing and constructing has increased significantly But the design/production of the piles has remained relatively unchanged.Therefore clients might be forced to choose amoung limited options with costly expenses. Grand Piling seeks to remove this handicap.
Grand Piling can start to involed in the project from the desgn stage, and designed a new sheet pile that utilizes the latest advances in construction and geotechnical science. The ESC sheet-piling concept will provide engineers the power to select a pile that will meet his or her requirements.
WHAT WE VALUE
Quality: Grand Piling is built upon its values of excellence . The reliability of our performance and the enduring quality of our products, are evidenced in all work s we have done for our customers. We never rest and continually strive to improve our performance through our standard ISO systems and other initiatives.With testing laboratory inhouse,from the beginning of raw materials to finished products deliveried to our clients,our inspection department will gurantee everything runnig as per standard.
Integrity: Grand Piling's culture is grounded in integrity and respect. This means holding the highest standards of ethical business culture. Our adhering to these standards is one of our most valuable assets
Zero Accidents: Grand Piling has a first-class safety program. We believe every accident is preventable, and we continue our pursuit of zero accidents.Year after year we are among the safest companies in our industry.
CORPORATE STRUCTURE DIAGRAM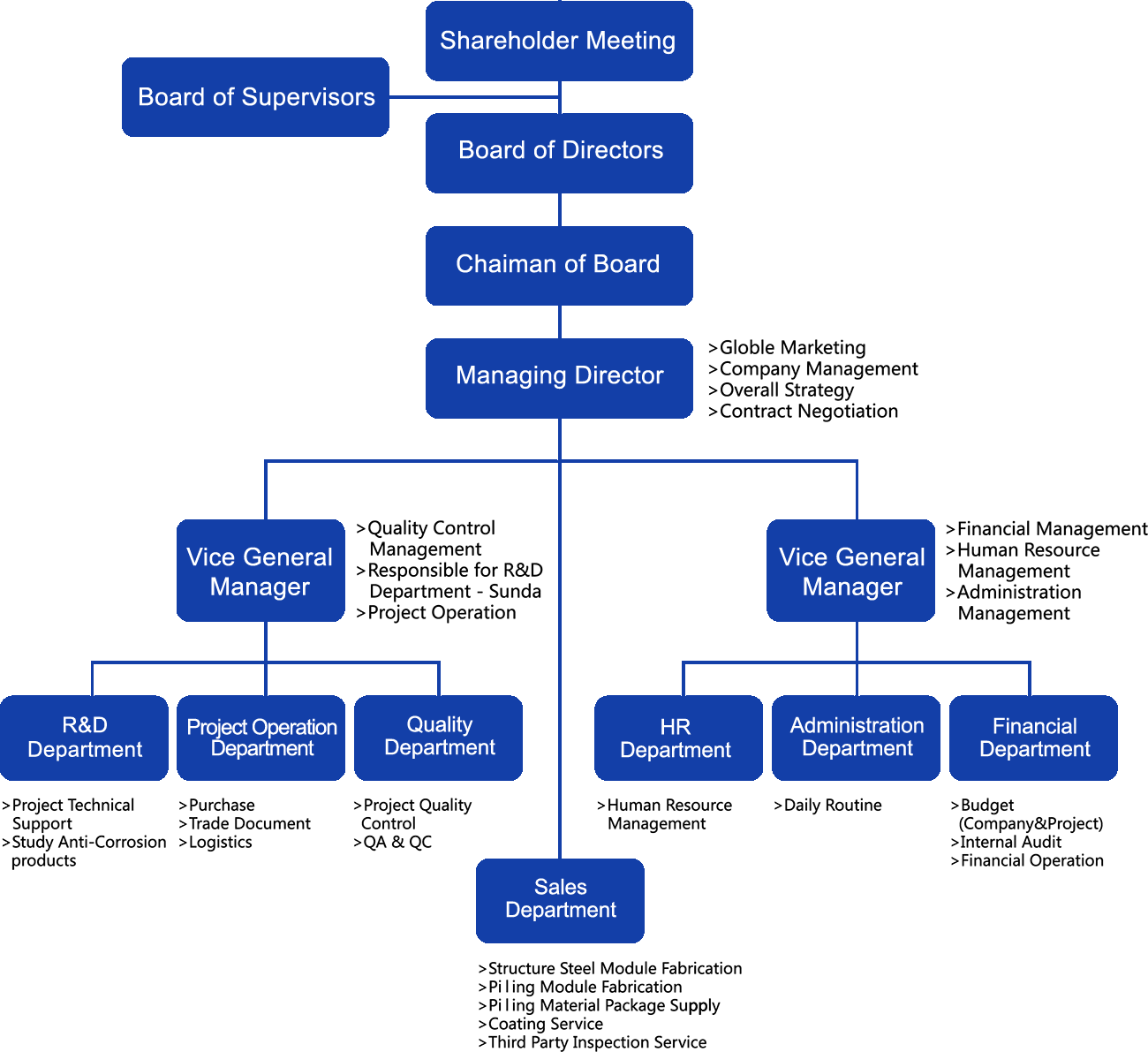 OUR MISSION
| | | |
| --- | --- | --- |
| | | |
| Best steel piling supplier | Create Valves for clients | Training EPC project manager |
OUR SPIRIT
| | | |
| --- | --- | --- |
| | | |
| Teamwork | Act by schedule | Love for the humanity |