The site of the project is located in Dafeng Port. The main work of this pilot project is laying of pre-tensioned U-shaped prestressed concrete sheet piles about 550 meters in section LDX-QLSG1 of Liu-Da-Chang Waterway Regulation Project. Pre-tensioned U-shaped prestressed concrete sheet piles made of concrete and having a generally U-shaped cross-section, the cross-section as shown: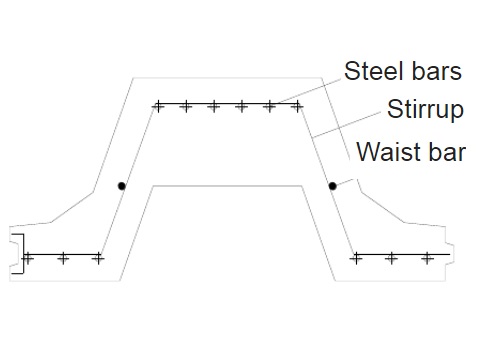 Wherein the U-shaped cross section has a bent section at the U-shaped bottom and first and second connecting sections located on both sides of the U-shape, the first connecting section and the second connection The segments each have a first connecting portion and a second connecting portion that are shaped to fit. Structural stress on its high bending, high shear resistance, but also has some load-bearing features. In addition, the connecting parts on both sides are equivalent to a buckle plate. After the joint is spliced, gaps can be left in the middle, and the interstices in the middle can be filled with slurry materials or other connecting materials to ensure the water stopping effect and the connection strength.
The purpose of this test is to verify the feasibility of applying pre-tensioning U-shaped prestressed concrete sheet piles to the hydraulic retaining wall, summarize the construction experience, improve the production and construction of U-shaped sheet piles, improve the quality control system, The entire production of the U-shaped sheet pile, the construction process of scientific and effective quality control standards.