SKZ sheet pile that features large section modulus(W=600~3200 cm3/m) is suitable for small and medium projects that bear relatively small earth(water) pressure, especially for temporary works. Depending on the different geological conditions, vibratory hammer with corresponding power is usually used for contruction. In company with the progressive development of smelting technology, the width of single piece SCZ sheet pile reached up to 750mm after the year 2002, which has brought about the acceleration of consturcion.
Skyline sheet piles has the following merits:
a. This product is wider than common hot rolled steel sheet piles, and this means the reduction in time consumption of hoisting and pile sinking;
b. The increase in width brings about the reduction of interlocks of walls per linear meter; In this way, the water sealing performance of wall body is directly improved, and the engineering cost is reduced;
c. The increase in height and use of high grade ensures the outstanding statics characteristics and reduces the weight of wall per linear meter;
d. The uniform thickness of section board ensures the favorable rigidity of pile sinking;
e. The high-tensile steel and advanced production equipment insures the performance of SKZ sheet piling.
f. Dedicated interlock designed through finite element analysis software ensures the repeated use of SCZ sheet piling;
g. The symmetrical structure and the provided rotation angle is conducive to the correction of construction deviation. This can make sheet pile prices lower.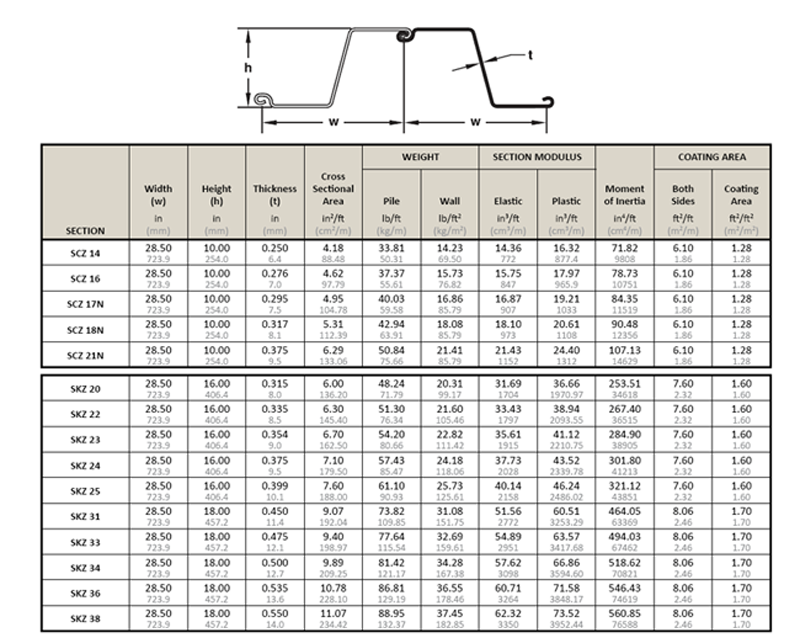 Steel grades for SKZ SCZ sheet piles
ASTM
Yield Strength
ASTM
Yield Strength
ksi
Mpa
ksi
Mpa
A572 grade 50
50
345
A572 Grade 65
80
555
A572 grade 55
55
380
A588
50
345
A572 grade 60
60
415
A690
50
345
A572 grade 65
65
450