PZ and PZC sheet piles are also called Larssen sheet piles,mostly used in USA. Some middle American countries also prefer these sections.
Larssen sheet piling has been widely used in the transformation of waters and along the coastal areas of infrastructure. The development of China's economic will occur wiht the series of mega projects, at the same time, China's high-speed railway, intercity rail lines, construction of State Road highway traffic, all needs foundations and cofferdams. In the natural state of crushed gravel (particle size less than 20mm), sand, silt, etc., foundation bearing capacity in 100KN / m2 following geological conditions, hot rolled steel sheet piling can be driven up to 30 times
Hot rolled steel sheet piling use a thin sheet (common thickness 8mm ~ 14mm), to roll forming machine processing. Its low cost of production and the price is cheap, length control is also more flexible. But the simple processing methods and the same thickness all sheet piles, also result in increased cross-sectional dimensions and cannot optimize the amount of steel.
According to the actual situation of the project, client can select the most economical and reasonable cross-section, optimize engineering design, material savings of 10-15% compared with the performance, greatly reducing the construction cost.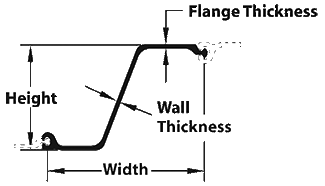 PZC sheet piling specifications.
Dimensions
Per Single Section
Per Foot Of Wall
Section
Nominal
Width
Wall
Depth
(Height)
Web
Thickness
Flange
Thickness
Weight
Per
Foot
Moment
of
Inertia
Section
Modulus
Weight
Per
Foot
Moment
of
Inertia
Section
Modulus
in.
in.
in.
in.
lbs/ft
in.4
in.3
lbs/ft2
in4/ft
in3/ft
PZC"12
27.88
12.52
0.335
0.335
46.4
326.6
52.0
20.0
140.6
22.4
PZC"13
27.88
12.56
0.375
0.375
50.4
353.0
56.2
21.7
152.0
24.2
PZC"14
27.88
12.60
0.420
0.420
55.0
382.7
60.5
23.7
164.8
26.0
PZC"17
25.00
15.21
0.335
0.335
46.4
492.9
64.5
22.3
236.6
31.0
PZC"18
25.00
15.25
0.375
0.375
50.4
532.2
69.8
24.2
255.5
33.5
PZC"19
25.00
15.30
0.420
0.420
55.0
576.5
75.2
26.4
276.7
36.1
PZC"26
27.88
17.70
0.525
0.600
73.9
994.3
112.4
31.8
428.1
48.4
Width
Height
Thickness
Weight
Section
Modulus
Moment
of
Inertia
Coating Area
Section
Flange
Web
Pile
Wall
Both Sides
Wall Surface
in.
in.
in.
in.
lb./ft
lb./ft.sq.
in.cu./ft.
in.qu/ft.
ft.sq./foot
of
single
ft.sq./ft.sq.
PZ22
22
9
0.375
0.375
40.3
22
18.1
84.38
4.48
1.22
PZ27
18
12
0.375
0.375
40.5
27
30.2
184.2
4.48
1.49
PZ35
22.64
16.1
0.6
0.5
66
35
48.5
361.2
5.37
1.42
PZ40
19.69
14.9
0.6
0.5
65.6
40
60.7
490.8
5.37
1.64