NS-SP sheet piles are produced by Nippon&Sumitomo Metal manufacturers and have three main sections, U type sheet pile, hat type sheet piles and straight web sheet piling. NS-SP sheet piling have many most used profiles, like NS-SP-type ⅠA,Ⅱ, IIA, Ⅲ, ⅢA, Ⅳ, ⅤL, ⅥL, ⅡW, ⅢW, ⅣW. In marine environment, the material is susceptible to corrosion, particularly in warm climates. The splash zone ( between mean low water and the upper limit of wave contact) and areas near mud line are most vulnerable to corrosion.
The total tonnage supplied was 541 tons. Pile shoes were fitted to all Main Wall piles due to the hard driving conditions. The tie rods were supplied by Arcelor and Thyssencrupp under the guidance and design . The rods supplied were M47mm of steel grade 950/1050 at 3.0 metre centres in 15.0 metre lengths. Tie rods were wrapped in Denso tape prior to installation.
Protective coatings such as bitumen or steel are recommended. River control structures and flood defence Steel sheet piling has traditionally been used for the support and protection of river banks, lock and sluice construction, and flood protection. NS-SP Sheet pile can be be driven through water make piles the obvious choice.
U type sheet pile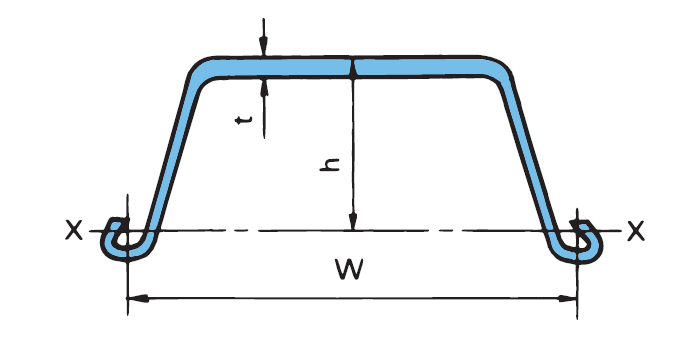 Section
Dimensions
Sectional Area
Mass
Moment of inertia
Modulus of section
Width
Height
Thickness
Pile
Wall
b
h/2
t
mm
Mm
mm
cm2/pile
kg/m
kg/m2
cm4/m
cm3/m
NS-SP-ⅠA
400
85
8
45.21
35.5
88.8
4500
529
NS-SP-Ⅱ
400
100
10.5
61.2
48
120
8740
874
NS-SP-IIA
400
120
9.2
55.01
43.2
108
10600
880
NS-SP-Ⅲ
400
125
13
76.4
60
150
16800
1340
NS-SP-ⅢA
400
150
13.1
74.4
58.4
146
22800
1520
NS-SP-Ⅳ
400
170
15.5
97
76.1
190
38600
2270
NS-SP-ⅤL
500
200
24.3
133.8
105
210
63000
3150
NS-SP-ⅥL
500
225
27.6
153
120
240
86000
3820
NS-SP-ⅡW
600
130
10.3
78.7
61.8
103
13000
1000
NS-SP-ⅢW
600
180
13.4
104
81.6
136
32400
1800
NS-SP-ⅣW
600
210
18
135.3
106
177
56700
2700
NS-SP-SX10
600
130
10.3
78.7
61.8
103
13000
1000
NS-SP-SX18
600
180
13.4
104
81.6
136
32400
1800
NS-SP-SX27
600
210
18
135.3
106
177
56700
2700
Hat type sheet piles

Section
Dimensions
Sectional Area
Mass
Moment of inertia
Modulus of section
Width
Height
Thickness
Pile
Wall
b
h/2
t
mm
Mm
mm
cm2/pile
kg/m
kg/m2
cm4/m
cm3/m
NS-SP-10H
900
230
10.8
110.0
86.4
122.2
10500
902
NS-SP-25H
900
300
13.2
144.4
113
160.4
24400
1610
NS-SP-45H
900
368
15
187.0
147
207.8
45000
2450
NS-SP-50H
900
370
17
212.7
167
236.3
51100
2760
Straight web type sheet piles

Section
Dimensions
Sectional Area
Mass
Moment of inertia
Modulus of section
Width
Height
Thickness
Pile
Wall
b
h/2
t
mm
Mm
mm
cm2/pile
kg/m
kg/m2
cm4/m
cm3/m
NS-SP-FL
500
44.5
9.5
78.57
61.7
123
396
157.1
NS-SP-FXL
500
47.0
12.7
98.36
77.2
154
570
196.7