H Beam is developed and optimized from I beam so that H beams create an economical profiled steel with better mechanical capabilities. Hot rolled H beams are a cross- sectional shape of the H-section steel. Much appreciated for its rectangular arrangement of its various parts, H- beam can be used in all sorts of applications, saving cost with its light-weight characteristics and excellent structure with a good bending ability and simple construction. We can produce H Beam from top quality Steel Beams mills. And we regularly carry a stock over 80000 tons in China, with cheap prices and good quality.
The reasons Japanese steel beams are better because the web plates and flanges are in the plumb, but the inner flange running parallel to the outer one.Japan type H beams have very straight and clear edges. Steel beams can be used in lots of large buildings ,such as factories, high-rise buildings, as well as bridges, ships, hoisting and transport machinery, equipment foundation, stents, and foundation pile.
The features of Japan steel beams are as follows:
1)Hot rolled H beam is 15-20% lighter than traditional steel when load is same. hot rolled H beam steel can decrease 20-30% weight compared with concrete structure.
2) The cost is lower, comparing with I-shaped steel, sometimes can save about 30% cost in steel manufacture. Japanese steel beam precision is high, expensive soldering material and soldering seam are needless residual stress is little
3) The both surfaces of steel beams mutually parallel, which makes connection, processing and installation more easily. Stiffness is large, anti-bending ability is strong, Flange is wide
Our H beams mills in China allows us to produce beam products in different shapes and sizes. We can always meet the needs of our clients and We will continue our commitment to customer satisfaction through endless effort, sincerity, and trust.
Dimensions:
JIS G 3192: 2005
JIS A 5526: 2005
Tolerances:
JIS G 3192: 2005
JIS A 5526: 2005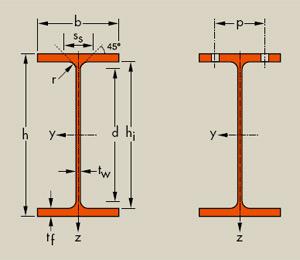 Dimensions
Sectional
Area
Weight
Moment
of Inertia
Modulus
of Section
H
B
t1
t2
r
mm
mm
mm
mm
mm
cm2
kg/m
cm4
cm3
100
50
5
7
10
12.16
9.54
192
38.5
125
60
6
8
10
17.01
13.3
417
66.8
100
100
6
8
10
21.9
17.2
383
76.5
150
75
5
7
10
18.16
14.3
679
90.6
125
125
6.5
9
10
30.31
23.8
847
136
148
100
6
9
13
27.25
21.4
1040
140
175
90
5
8
10
23.21
18.2
1220
140
198
99
4.5
7
13
23.59
18.5
1610
163
200
100
5.5
8
13
27.57
21.7
1880
188
150
150
7
10
13
40.55
31.9
1660
221
194
150
6
9
16
39.76
31.2
2740
283
248
124
5
8
13
32.89
25.8
3560
287
250
125
6
9
13
38.87
29.7
4080
326
175
175
7.5
11
13
51.43
40.3
2900
331
298
149
5.5
8
16
41.55
32.6
6460
433
200
200
8
12
16
64.28
50.5
4770
477
300
150
6.5
9
16
47.53
37.3
7350
490
244
175
7
11
16
56.24
44.1
6120
502
200
204
12
2
16
72.28
56.7
5030
503
346
174
6
9
16
53.19
41.8
11200
649
294
200
8
12
20
73.03
57.3
11400
779
350
175
7
11
16
63.66
50.0
13700
782
250
250
9
14
16
92.18
72.4
10800
867
250
255
14
14
16
104.7
82.2
11500
919
400
150
8
13
16
71.12
55.8
18800
942
396
199
7
11
16
72.16
56.7
20000
1010
294
302
12
12
20
108.3
85
17000
1160
400
200
8
13
16
84.12
66
23700
1190
450
150
9
14
20
83.41
65.5
27100
1200
340
250
9
14
20
101.5
79.7
21700
1280
446
199
8
12
20
84.95
66.7
29000
1300
300
300
10
15
20
120.4
94.5
20500
1370
300
305
15
15
20
135.4
106
21600
1440
450
200
9
14
20
97.41
76.5
33700
1500
500
150
10
16
20
98.23
77.1
38500
1540
496
199
9
14
20
101.3
79.5
41900
1690
500
200
10
16
20
114.2
89.6
47800
1910
344
348
10
16
20
146
115
33300
1940
390
300
10
16
24
136.7
107
38900
2000
506
201
11
19
20
131.3
103
56500
2230
350
350
12
19
20
173.9
137
40300
2300
596
199
10
15
24
121.2
95.1
69300
2330
482
300
11
15
28
146.4
115
60800
2520
388
402
15
15
24
179.2
141
492
2540
440
300
11
18
24
157.4
124
56100
2550
600
200
11
17
24
135.2
106
78200
2610
394
398
11
18
24
187.6
147
56400
2860
488
300
11
18
28
164.4
129
71400
2930
606
201
12
20
24
153.3
120
91000
3000
400
400
13
21
24
219.5
172
66900
3340
400
408
21
21
24
251.5
197
71100
3460
585
300
12
17
28
174.5
137
103000
3530
588
300
12
20
28
192.5
151
118000
4020
414
405
18
28
24
296.5
233
93000
4490
594
302
14
23
28
222.4
175
137000
4620
692
300
13
20
28
211.5
166
172000
4980
428
407
20
35
24
361.4
284
119000
5580
700
300
13
24
28
235.5
185
201000
5760
792
300
14
22
28
243.4
191
254000
6400
800
300
14
26
28
267.4
210
292000
7290
890
299
15
23
28
270.9
213
345000
7760
458
417
30
50
24
529.3
415
187000
8180
900
300
16
28
28
309.8
243
411000
9140
912
302
18
34
28
364.0
286
498000
10900
498
432
45
70
24
770.8
605
298000
12000