VL sheet piles are produced in Czech Republic and have two types, Larssen types and Heosch types. Normally they are supplied as single piles and are easily handled, stacked and pitched in that form. Arelcormittal not only worked with the owners but the contractor had constant site visits and communication from Arcelor both during the design stage and the implementation stage of the project. Tolerances: EN 10 248-2 Steel grades : S 240 GP, S 270GP, S 355 GP according to EN 10 248-1. VL 601, VL602,VL603 type sheet piles are all popular in Europe.
Subject to prior arrangement, VL sheet pile can be supplied interlocked in pairs to minimize the number of handling and pitching operations on site. Designs of the wall system took into account the preferred method of construction detailed by Thyssenkrupp and were adapted accordingly whilst at the same time ensuring the stringent safety factors. VL sheet piling are two sheet piles joined together by locking into each other and fastening against shifting. It should be noted however that when interlocked in pairs, the resulting shape is asymmetric requiring care when stacking.
On basic of an order sheet piles are punched with holes having diameter 40 mm.VL604,VL605,VL606,VL607 types are hot rolled sheet piling. When U piles are interlocked prior to delivery in pairs there are two possible orientations when viewed from the end of the pile with the lifting hole as illustrated in Fig 1.14.4. The orientation can be reversed by burning lifting holes
The Port of Fujairah proposed to construct a new quay wall and associated works at the existing facility. Pile type - S Punching of sheet piles. Free sections or crane bundles up to 5000 kg. The scope of works covered the following structures. The type of VL sheet pile wall to be used will be an embedded sheet pile wall, restrained by tie rods to buried sheet pile anchor wall.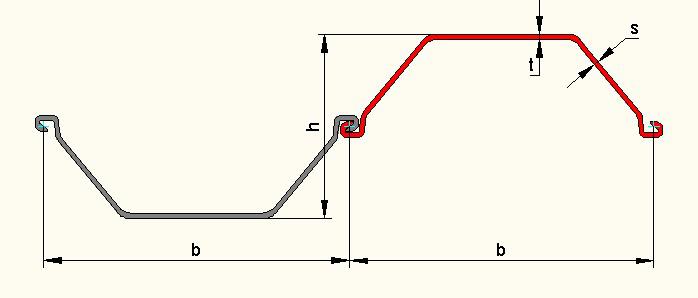 Section
Dimensions
Mass
Moment of inertia
Modulus of section
Width
Height
Thickness
Per pile
Wall
b
h
t
s
mm
mm
mm
mm
kg/m
kg/m2
cm4/m
cm3/m
VL 600
600
150
9.5
9.5
56.4
94
3825
510
VL 600K
600
150
10
10
59.4
99
4050
540
VL 601
600
310
7.5
6.4
46.8
78
11520
745
VL 602
600
310
8.2
8
53.4
89
12870
830
VL 603
600
310
9.7
8.2
64.8
108
18600
1200
VL 603K
600
310
10
9
68.1
113.5
19220
1240
VL 603 10/10
600
310
10
10
69.6
116
19530
1260
VL 604
600
380
10
9
73.8
123
30400
1600
VL 605
600
420
13
9.2
85.5
142.5
43890
2090
VL 606
600
435
14.4
9.2
94.2
157
54375
2500
VL 607
600
452
19
10.6
114
190
72320
3200
L 703
700
400
9.5
8
67.5
96.4
24200
1210
L 716
700
440
10.2
9.5
79.9
114.2
35200
1600
L 720
750
450
12
10
96.4
128.5
45000
2000