The parallel flanges channel have thinner material thicknesses but on the other hand slightly wider flanges than the UPN profiles. UPE channels, normalized by the DIN 1026-2 standard, correspond to a large extent with UNP channels, normalized by DIN 1026, however, they have widened and parallel flanges. The channel steel series with parallel flanges is now also available in stainless steel and is a very interesting alternative to the UPN series.Possibility of manufacturing steel channel girders transferring loads in Y-axis
UPE parallel flanges channels have with reduced weight, better static values in relation to UNP channels which is reflected in higher, related to the weight, section modulus at bending - Wy/G and Wz/G.Furthermore the new UPE series match perfectly with the dimensions of the IPE series according to EN Standard.Joining simplification when welding, screwing together and riveting thanks to eliminating adapting elements and required washers.
UPE channel is the short form for channel sections with parallel flanges according to DIN 1026-2: 2009-10 with tolerances according to EN 10279: 2000.The series of types of UPE is characterized by much better advantages with reference to UAP channels, normalized by the NF A 45-255 French standard.Therefore using UPE profiles results in weight saving up to 30% by keeping the same static conditions.Due to the characteristic of the UPE steel channel, architects and engineers are able to reduce weight by 9% when calculating around the strong axis and even 24% when referring to the weaker axis.Better abilities to join with girders with parallel flanges (HE and IPE).
Dimensions:
DIN 1026-2: 2002-10
Tolerances:
EN 10279: 2000
Surface condition:
According to EN 10163-3: 2004, class C, subclass 1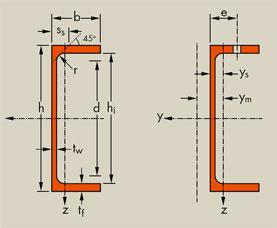 Identification
Nominal dimensions
Dimensions for detailing
Cross-section
Nominal
weight
1m
Surface
h
b
s
t
R
h1
d
Ø
emin
emax
A
G
AL
AG
mm
mm
mm
mm
mm
mm
mm
mm
mm
cm2
kg/m
m2/m
m2/m
UPE 80
80
50
4,0
7,0
10
66
46
-
-
10,1
7,90
0,343
43,45
UPE 100
100
55
4,5
7,5
10
85
65
M12
35
36
12,5
9,82
0,402
41,00
UPE 120
120
60
5,0
8,0
12
104
80
M12
35
41
15,4
12,1
0,460
37,98
UPE 140
140
65
5,0
9,0
12
122
98
M16
35
38
18,4
14,5
0,520
35,95
UPE 160
160
70
5,5
9,5
12
141
117
M16
36
43
21,7
17,0
0,579
34,01
UPE 180
180
75
5,5
10,5
12
159
135
M16
36
48
25,1
19,7
0,639
32,40
UPE 200
200
80
6,0
11,0
13
178
152
M20
46
47
29,0
22,8
0,697
30,60
UPE 220
220
85
6,5
12,0
13
196
170
M22
47
49
33,9
26,6
0,756
28,43
UPE 240
240
90
7,0
12,5
15
215
185
M24
47
51
38,5
30,2
0,813
26,89
UPE 270
270
95
7,5
13,5
15
243
213
M27
48
50
44,8
35,2
0,892
25,34
UPE 300
300
100
9,5
15,0
15
270
240
M27
50
55
56,6
44,4
0,968
21,78
UPE 330
330
105
11,0
16,0
18
298
262
M27
54
60
67,8
53,2
1,043
19,60
UPE 360
360
110
12,0
17,0
18
326
290
M27
55
65
77,9
61,2
1,121
18,32
UPE 400
400
115
13,5
18,0
18
364
328
M27
57
70
91,9
72,2
1,218
16,87