Universal Beams (UB) is the UK spec for structural steel beams supplied primarily to the construction industry. The suffix 'UB' refers to UK steel beams and are specific to the UK market.In addition to the supply of universal beams and columns, a world-wide network of sales offices offer customers the technical and project skills required throughout the supply chain, with emphasis on end user or project supply.Universal Section produced by us are manufactured in accordance with the requirements of Australian/New Zealand Standard AS/NZS 3679.1 Structural steel.UB Universal Beam is a structural element that can withstand weight, primarily by resisting the forces of bending.
We supply a wide variety with particular expertise in high yield, low temperature products.Please refer to the sizes/specification table below. To find our more about the Universal Beams (UB) supplied by us or to receive a competitive quotation, please click contact us.Grades other than shown below may also be available depending upon section and quantity requirements. Traditional usage includes foundation for buildings, bridges, civil / nautical / aeronautics projects. UB steel beams are often described by their support systems, such as simple beam, cantilevers, overhanging beam etc.
We offer low temperature impact testing Universal Sections, which is available for lengths from 6 metres to 20 metres as standard and we can offer shipment worldwide. Tata Steel supplies both universal beams and columns into the construction market throughout the world.This key construction component can carry vertical gravitational force and can also bear horizontal loads.In addition to this, FISTCO has IPE available for supply in high quality as well as large quantities to buyers from all over including the UAE, KSA, OMAN and other countries in the Region.
Dimensions:
BS 4-1: 2005 UB 127-914
ASTM A 6/A 6M - 07 UB 1016
Tolerances:
EN 10034: 1993 UB 127-914
ASTM A 6/A 6M - 07 UB 1016
Surface condition:
According to EN 10163-3: 2004, class C, subclass 1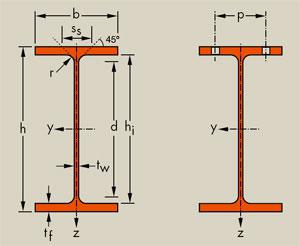 Properties of British Universal Steel Columns and Beams
Designation
Dimensions
Static Parameters
Moment of
Inertia
Section
Modulus
Depth
h
(mm)
Width
w
(mm)
Web
Thickness
s
(mm)
Sectional
Area
(cm2)
Weight
(kg/m)
Ix
(cm4)
Iy
(cm4)
Wx
(cm3)
Wy
(cm3)
UB 127 x 76 x 13
127
76
4
16.5
13
473
55.7
74.5
14.7
UB 152 x 89 x 16
152.4
88.7
4.5
20.3
16
834
89.6
109.5
20.2
UB 178 x 102 x 19
177.8
101.2
4.8
24.3
19
1356
137
152.5
27
UB 203 x 102 x 23
203.2
101.8
5.4
29.4
23.1
2105
163.9
207.2
32.2
UB 203 x 133 x 25
203.2
133.2
5.7
32
25.1
2340
307.6
230.3
46.2
UB 203 x 133 x 30
206.8
133.9
6.4
38.2
30
2896
384.7
280
57.5
UB 254 x 102 x 22
254
101.6
5.7
28
22
2841
119.3
223.7
23.5
UB 254 x 102 x 25
257.2
101.9
6
32
25.2
3415
148.7
265.5
29.2
UB 254 x 102 x 28
260.4
102.2
6.3
36.1
28.3
4005
178.5
307.6
34.9
UB 254 x 146 x 31
251.4
146.1
6
39.7
31.1
4413
447.5
351.1
61.3
UB 254 x 146 x 37
256
146.4
6.3
47.2
37
5537
570.6
432.6
78
UB 254 x 146 x 43
259.6
147.3
7.2
54.8
43
6544
677.4
504.1
92
UB 305 x 102 x 25
305.1
101.6
5.8
31.6
24.8
4455
122.9
292.1
24.2
UB 305 x 102 x 28
308.7
101.8
6
35.9
28.2
5366
155.4
347.6
30.5
UB 305 x 102 x 33
312.7
102.4
6.6
41.8
32.8
6501
194.1
415.8
37.9
UB 305 x 127 x 37
304.4
123.4
7.1
47.2
37
7171
336.2
471.1
54.5
UB 305 x 127 x 42
307.2
124.3
8
53.4
41.9
8196
388.8
533.6
62.6
UB 305 x 127 x 48
311
125.3
9
61.2
48.1
9575
461
615.7
73.6
UB 305 x 165 x 40
303.4
165
6
51.3
40.3
8503
764.4
560.5
92.6
UB 305 x 165 x 46
306.6
165.7
6.7
58.8
46.1
9899
895.7
645.7
108.1
UB 305 x 165 x 54
310.4
166.9
7.9
68.8
54
11700
1063
753.6
127.4
UB 356 x 127 x 33
349
125.4
6
42.1
33.1
8249
280.2
472.7
44.7
UB 356 x 127 x 39
353.4
126
6.6
49.8
39.1
10172
357.8
575.6
56.8
UB 356 x 171 x 45
351.4
171.1
7
57.3
45
12070
811.1
686.7
94.8
UB 356 x 171 x 51
355
171.5
7.4
64.9
51
14140
968.3
796.4
112.9
UB 356 x 171 x 57
358
172.2
8.1
72.6
57
16040
1108
896
128.7
UB 356 x 171 x 67
363.4
173.2
9.1
85.5
67.1
19460
1362
1071
157.3
UB 406 x 140 x 39
398
141.8
6.4
49.7
39
12508
409.8
628.6
57.8
UB 406 x 140 x 46
403.2
142.2
6.8
58.6
46
15685
538.1
778
75.6
UB 406 x 178 x 54
402.6
177.7
7.7
69
54.1
18720
1021
930
114.9
UB 406 x 178 x 60
406.4
177.9
7.9
76.5
60.1
21600
1203
1063
135.3
UB 406 x 178 x 67
409.4
178.8
8.8
85.5
67.1
24330
1365
1189
152.7
UB 406 x 178 x 74
412.8
179.5
9.5
94.5
74.2
27310
1545
1323
172.2
UB 457 x 152 x 52
449.8
152.4
7.6
66.6
52.3
21370
645
950
84.6
UB 457 x 152 x 60
454.6
152.9
8.1
76.2
59.8
25500
794.6
1122
103.9
UB 457 x 152 x 67
458
153.8
9
85.6
67.2
28930
912.6
1263
118.7
UB 457 x 152 x 74
462
154.4
9.6
94.5
74.2
32670
1047
1414
135.6
UB 457 x 152 x 82
465.8
155.3
10.5
104.5
82.1
36590
1185
1571
152.5
UB 457 x 191 x 67
453.4
189.9
8.5
85.5
67.1
29380
1452
1296
152.9
UB 457 x 191 x 74
457
190.4
9
94.6
74.3
33320
1671
1458
175.5
UB 457 x 191 x 82
460
191.3
9.9
104.5
82
37050
1871
1611
195.6
UB 457 x 191 x 89
463.4
191.9
10.5
113.8
89.3
41020
2089
1770
217.8
UB 457 x 191 x 98
467.2
192.8
11.4
125.3
98.3
45730
2347
1957
243.5
UB 533 x 210 x 82
528.3
208.8
9.6
104.7
82.2
47540
2007
1800
192.3
UB 533 x 210 x 92
533.1
209.3
10.1
117.4
92.1
55230
2389
2072
228.3
UB 533 x 210 x 101
536.7
210
10.8
128.7
101
61520
2692
2292
256.4
UB 533 x 210 x 109
539.5
210.8
11.6
138.9
109
66820
2943
2477
279.2
UB 533 x 210 x 122
544.5
211.9
12.7
155.4
122
76040
3388
2793
319.7
UB 610 x 229 x 101
602.6
227.6
10.5
128.9
101.2
45780
2915
2515
256.1
UB 610 x 229 x 113
607.6
228.2
11.1
143.9
113
87320
3434
2874
301
UB 610 x 229 x 125
612.2
229
11.9
159.3
125.1
98610
3932
3221
343.4
UB 610 x 229 x 140
617.2
230.2
13.1
178.2
139.9
111800
4505
3622
391.4
UB 610 x 305 x 149
612.4
304.8
11.8
190
149.1
125900
9308
4111
611
UB 610 x 305 x 179
620.2
307.1
14.1
228.1
179
153000
11408
4935
743
UB 610 x 305 x 238
635.8
311.4
18.4
303.3
238.1
209500
15837
6589
1017