PFC channel steel is normally called a channel or a "C-section". Low temperature impact testing is available across the range. Hot Rolled Structural Steel sections produced by Arcelor are manufactured in accordance with the requirements of Australian/New Zealand Standard AS/NZS 3679.For information on manufacturing tolerances please refer to AS/NZS 3679.1.When used for lintels, they have a bottom plate welded to it that takes the outer bricks or 2 channels are bolted back to back with 100 mm spacers.This can support both leafs of a Parallel flange channel.
To find our more about Parallel flange channels supplied by Tata Steel or to receive a detailed and competitive quotation, please click contact us.Whilst we supply an extensive range, we particularly excel in supplying channels which are ideal for use in high yield – low working temperatures.The hot rolled steel channel is used for columns, lintels above doors or simply a beam supporting floor joists. We supply parallel flange rolled steels channels (PFC) to the construction industry.
Grades other than shown below may also be available depending upon section and quantity requirements.Hot rolled channel steel are described by their depth, width and weight per metre in kilograms, eg. 150 x 75 x 18 PFC. For information on section & tensile properties and chemical composition for PFC steel channel select the appropriate link from the right hand menu.
British parallel flange channels
Dimensions:
BS 4-1: 2005
Tolerances:
EN 10279: 2000
Surface condition:
According to EN 10163-3: 2004, class C, subclass 1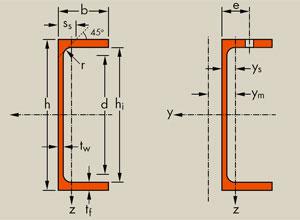 Designation
Mass
Depth h
Width b
Thickness
Radius
Second Moment Of Area
Web S
Flange t
Root r1
Axis x-x cm4
Axis y-y cm4
kg/mtr
mm
mm
mm
mm
mm
PFC 430x100x64
PFC 380x100x54
PFC 300x100x46
PFC 300x90x41
PFC 260x90x35
PFC 260x75x28
PFC 230x90x32
PFC 230x75x26
PFC 200x90x30
PFC 200x75x23
PFC 180x90x26
PFC 180x75x20
PFC 150x90x24
PFC 150x75x18
PFC 125x65x15
PFC 100x50x10
64.40
54.00
45.50
41.40
34.80
27.60
32.20
25.70
29.70
23.40
26.10
20.30
23.90
17.90
14.80
10.20
430
380
300
300
260
260
230
230
200
200
180
180
150
150
125
100
100
100
100
90
90
75
90
75
90
75
90
75
90
75
65
50
11
9.50
9
9
8
7
7.50
6.50
7
6
6.50
6
6.50
5.50
5.50
5
19
17.5
16.5
15.5
14.0
12.0
14.0
12.5
14.0
12.5
12.5
10.5
12.0
10
9.50
8.50
15
15
15
12
12
12
12
12
12
12
12
12
12
12
12
9
21940
15030
8229
7218
4728
3619
3518
2748
2523
1963
1817
1370
1162
861
483
208
722
643
568
404
353
185
334
181
314
170
277
146
253
131
80.00
32.30