All LSP sheet piles are most popular in Japan and Some Asia countries, especially for type LSP-1,LSP-2,LSP-2N,LSP-3A,LSP-3B,LSP-3C, LSP-3D,LSP-5 .If the resistance generated by these factors is sufficient to counteract the longitudinal shear force, the piles will develop full section modulus.Driving the sheet piles with an impact hammer places less load on the seals because the movement takes place in one direction only.LSP-1,LSP-2N,LSP-3A,were completely coated using the same paint and thickness.
However, it is advisable, in certain conditions, to connect together the inner and outer leaves of a wall by crimping or welding the common interlock to ensure that the necessary resistance to longitudinal shear is developed. The load on light sheet pile is greater because of the friction and the associated temperature rise.
All steel sheet pile painting works were carried out in the factory in China. The piles are prevented from penetrating to the design depth of embedment by rock or hard ground.During installation some paint discolouring and damage was noticed. he permeability of a sheet pile wall joint can be estimated using DIN EN 12063 appendix E. Therefore, Arcelor put an extra layer of Jotun PU coating on top of the original Jotamastic coat to make sure that the grey colour kept its final RAL code for the design length.The piles are supporting open water or very soft clays and silts. In the case of multiple piles, the interlocks are factory-welded, which means that only the remaining interlocks between groups of sheet piles have to be welded on site.
Rubber or plastic cords together with a caulking compound with swelling and setting properties can also be used.The light sheet pile interlocks have been lubricated.All deliveries for the project were carried out in March 2008.Sheet pile walls can also be sealed by hammering in wooden wedges, which then swell when in water. The piles are acting in cantilever.Extra clutches were sent along with the shipment to ensure that if any special corners were needed to be turned or obstacles caused a variation in the driving line then Geka Bouw BV was able to perform the onsite fabrication without any delays to the project timetable.Such joints must be cleaned and dried before welding.Such conditions arise when the interlocks achieves a completely watertight sheet pile wall for LSP-3B,LSP-3C, LSP-3D,LSP-5.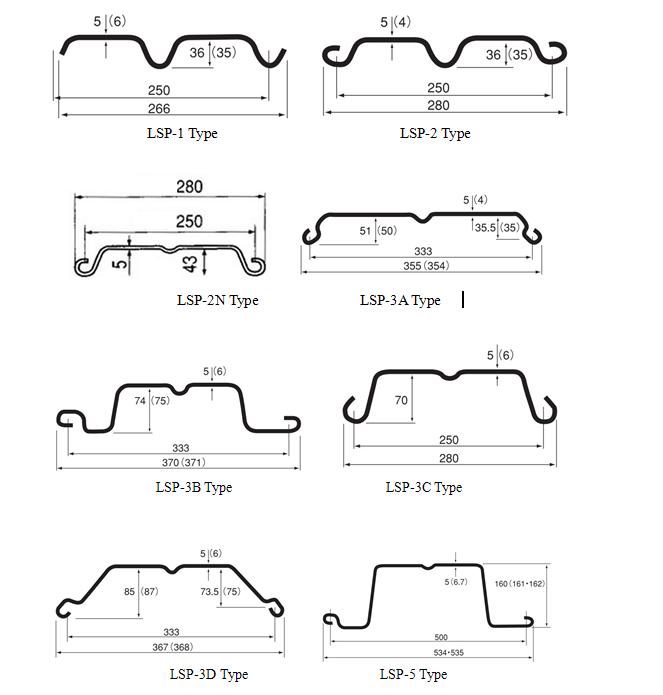 Dimensions
Weight
Weight
Types
Thickness
Width
Height
Per pile
Per wall
Modulus of Section
Moment of Inertia
mm
mm
mm
Kg/m
Kg/m2
Cm3/m
Cm4/m
LSP-1
4 5
250 250
35 36
10.4 12..9
41.6 51.6
26.8 33.3
64.0 80.8
LSP-2
4 5
250 250
35 36
11.8 14.8
47.2 59.2
48.6 59.7
85.1 107
LSP-2N
5
250
43
14.8
59.2
96.5
246
LSP-3A
4 5
333 333
50 51
14.2 17.9
42.6 53.7
115 144
404 510
LSP-3B
5 6
333 333
74 75
21.6 25.9
64.8 77.7
171 204
636 762
LSP-3C
5 6
250 250
70 70
16.4 20.8
65.6 83.2
213 252
1060 1260
LSP-3D
5 6
333 333
85 87
19.3 23.3
57.9 69.9
272 330
2000 2480
LSP-5
5 6 7
500 500 500
160 161 162
33.6 40.4 47.1
67.2 80.8 94.2
452 540 626
3620 4360 5080