There are many advantages to constructing with taper flange beams.The Structural Engineer must design the steel members and give guidelines for the connections.Some structural steel shapes such as I-beams have a high second moments of area, which can result in stiffness compared to cross-sectional area.The cold-formed sections are suitable for all types of welding such as spot welding, seam welding, projection welding, butt and groove welding, plug welding and arc welding. It is very important for engineers to have understanding of the taper flange columns.
The strength to weight ratio is excellent; metals join easily; efficient shapes are available; etc. All of these are applicable to both uncoated and zinc coated British joists with taper flanges. Most structural steel failures occur at connections, where a beam connects to a taper flange column, where a joist connects to a beam, etc.For example they are used in, building frames, roof trusses, floor framing, bench frames, gates, fences, cattle grids, scaffolds, tank stands, television towers, car trailers, rails, etc.
Different shapes of structural steel (both hot-rolled and cold-formed) are available with specifications such as: I-beam's, Z-Shape (half a flange in opposite directions), HSS-Shape (Hollow structural section such as square, , Channel ( [-shaped), Tee (T-shaped cross-sections).These advantages create challenges that are best solved by a good understanding of how the metals actually perform in a structure. Taper flange beam shapes are suitable for a wide variety of uses.
Dimensions:
BS 4-1: 2005
Tolerances:
EN 10024: 1995
Surface condition:
According to EN 10163-3: 2004, class C, subclass 1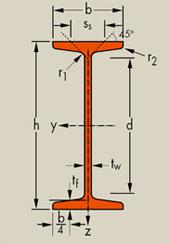 Designation
Mass
per
m
Depth
of
Section
Width
of
Section
Thickness of
Root
Radius
Toe
Radius
Flange
Taper
M
h
b
(web)s
(flange)t
r1
r2
a
kg/m
mm
mm
mm
mm
mm
mm
Degrees
254x203x82
82
254
203,2
10,2
19,9
19,6
9,7
8
254x114x37
37,1
254
114,3
7,6
12,8
12,4
6,1
8
203x152x52
52,2
203,2
152,4
8,9
16,5
15,5
7,6
8
152x127x37
37,2
152,4
127
10,4
13,2
13,5
6,6
8
127x114x29
29,3
127
114,3
10,2
11,5
9,9
4,8
8
127x114x27
26,8
127
114,3
7,4
11,4
9,9
5
8
127x76x16
16,5
127
76,2
5,6
9,6
9,4
4,6
8
114x114x27
27
114,3
114,3
9,5
10,7
14,2
3,2
8
102x102x23
23
101,6
101,6
9,5
10,3
11,1
3,2
8
102x44x7
7,4
101,6
44,5
4,3
6,1
6,9
3,3
8
89x89x19
19,5
88,9
88,9
9,5
9,9
11,1
3,2
8
76x76x15
15
76,2
80
8,9
8,4
9,4
4,6
8
76x76x13
12,7
76,2
76,2
5,1
8,4
9,4
4,6
8